Dolphin Programs
Come Meet Your New Best Friends!

The idyllic setting of Anthony's Key Resort is enough to evoke a sense of wonder and awe. Our small hideaway allows adventurous travelers the ability to experience Roatan's beauty the way nature intended.
Here you can also immerse yourself in the world of our local marine life with our dolphin encounter and educational programs. Dolphins seem to top just about everyone's "favorite animal" list, and it's no wonder. These gentle mammals are friendly and intelligent, and they're known for their agility and playful behavior.
During your stay at Anthony's Key Resort, you have the rare opportunity to interact with our resident pod of dolphins in their natural environment. A large family of Atlantic Bottlenose dolphins makes their home just across our lagoon at Bailey's Key. Here you can swim and snorkel with them on their own terms, with no trained behaviors. You can also dive with them in the open sea and experience what it's like to be 'part of the pod'.
If you crave more extensive experience, consider the Dolphin Trainer for a Day or the Dolphin Specialty Course. If your family enjoys a summer visit, the kids can take part in our six-day Dolphin Scuba Camp. They'll brush up on their snorkeling and scuba skills while learning and interacting with these beautiful sea mammals.
When you vacation at Anthony's Key Resort, you'll enjoy an intimate acquaintance with nature in all its forms. Peruse our dolphin package options and choose your favorite way to make a new friend!
Dolphin Beach Encounter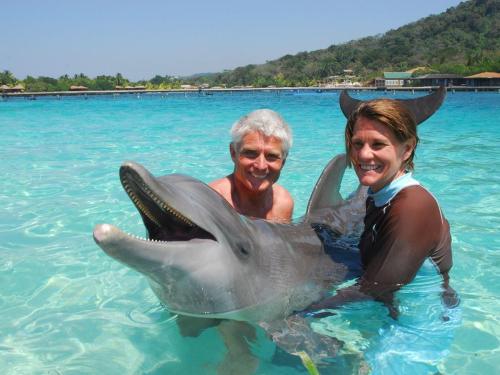 Up-close dolphin introduction & interaction with bottlenose dolphins in a natural Caribbean lagoon setting. An experience unlike any other.
For more info click
here
.
Dolphin Action Swim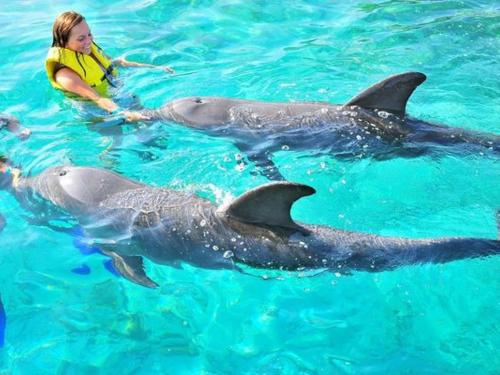 This dynamic activity begins with a with a handshake, kiss and a friendly smile, followed by a playful swim with two fun loving dolphins.
For more info click
here
.
Dolphin Swim & Snorkel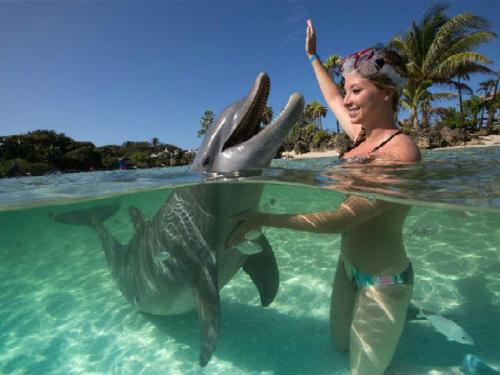 If you can snorkel, then you can mingle with a multi-generational dolphin pod in their private Roatan lagoon.
For more info click
here
.
Dolphin Dive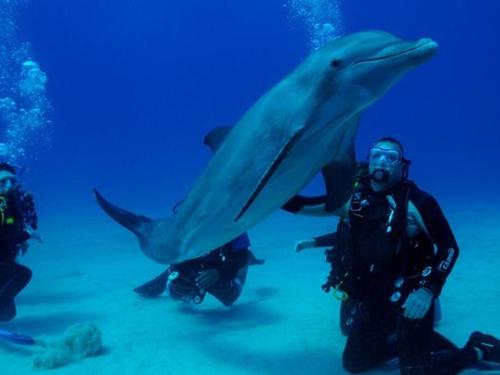 Unstructured. Untamed. Unmatched. A rare chance to interact with dolphins in their environment. A wild 45 minutes observing, photographing & playing!
For more info click
here
.
Dolphin Specialty Course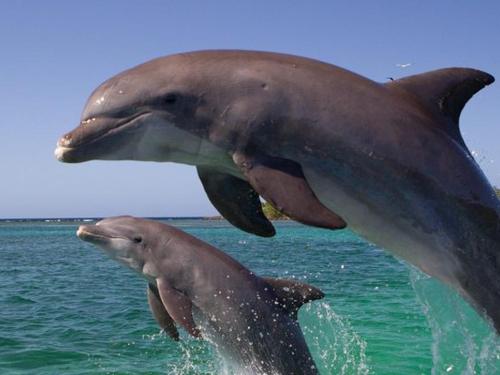 For those who would like a more in-depth study of bottlenose dolphins, RIMS offers a two-day course with classroom sessions with hands-on interaction.
For more info click
here
.
Dolphin Scuba Summer Camp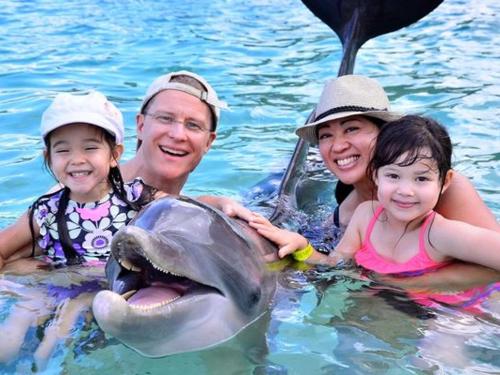 Get 2 x 1 savings on our popular Dolphin Scuba Summer Camp! A great alternative to leaving the kids at home.
For more info click
here
.