Our popular Dolphin Scuba Summer Camp offers parents a great alternative to leaving the kids at home! During the week, children ages 5 to 14 will interact with bottlenose dolphins through various encounters, feeding and training sessions. They'll also be exposed to diving & snorkeling skills in keeping with their age and skill level. Oceanside discussions, short classroom sessions, snorkeling trips and other outdoor activities will give your child a real appreciation for the ocean, marine life and our environment in general.
Our experienced RIMS staff, and the PADI professionals from AKR's Scuba School, are the camp instructors. Campers join parents for lunch daily, and parents are always welcome to observe and participate in most activities.
Learn more about the Dolphin Scuba Camp package, see current rates, and available dates here.
Sample Schedule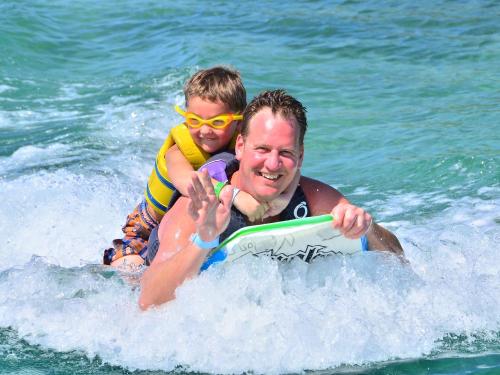 Equipment Recommendation for Participants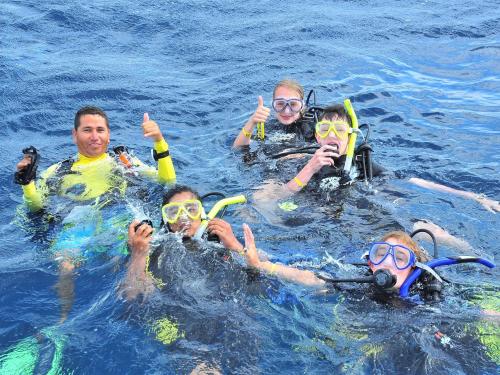 Most of the water activities during Dolphin Scuba Camp will require your child to use snorkeling gear. Gear that is not properly fitted may impair or prevent your child from participating in particular activities. We strongly recommend that you visit your local diving retail center and consult with a trained sales professional to select snorkeling equipment for your child. Snorkel gear is available for sale or rent at the resort; however, the selection of sizes and styles may be limited.
Once you have made your selection, have your child test the equipment for leaks at a beach, in a swimming pool or even in a bathtub! Fins should fit snugly, but not too tight. If you cannot test fins in the water, have your child sit and wear the fins for a few minutes to make sure that they are comfortable. A little extra time spent on selecting snorkeling gear will insure a safe and enjoyable activity and will instill self-confidence in your child while in the water.